For over 55 years, Constructa has been selling pre construction residential real estate — for primary or secondary residences or investment. Thanks to this experience, the group has climbed to first place among independent real estate agencies in France.
Founded in 1964, the "Sales" subsidiary of the Constructa Group controls all types of transactions affecting residential real estate — from first-time homeowners to high-end properties and investments.
independent sales center in France
active listing agreements
Prescribers
Private individuals
Constructa Vente provides socio-economic studies, demographic projections, analyses of markets and product concept consulting. Constructa Vente accompanies its partners in each step of their project and through to implementation of their marketing strategy, thanks to innovative tools and a network of experienced sales team and managers in the field.
Results for the beneficiaries include better anticipation, follow-up and economic efficiency, over the course of their project.
At Constructa Vente, each regional division is structured around three business divisions.
Vefa sector (pre construction)
This is the BtoC division of Constructa Vente: the sale of new, unbuilt properties to be completed in the future.
New off-plan housing sold on behalf of Constructa Promotion and third-party developers
Dynamic strategies adapted to the conjunctures
Monitoring and continuous presence on-site
Specific high-performance tools
This BtoB division of Constructa Vente provides a complementary sales force, essential to sales momentum and fostering transactions.
A supplemental sales force
Sharing of contact databases
Visibility across all programs
Synergy with the sales team to increase the global business results
Whoever the client – CGP, social housing actor, private real estate company, or SCPI – the Constructa Promise is the same: informed council coupled with excellent operational services.
Real estate agency sector
Since 2019, Constructa Vente has been developing a brand new service for individuals: "Mon Agence Constructa".
The principle? To accompany our customers wishing to buy a property from our catalog in researching the best solutions for financing through the sale of their current property. And in the case of investment real estate, we even take care of the rental and management of the property concerned.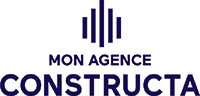 A different vision of marketing real estate
– Brickline 52, Nanterre –
REAL ESTATE DEVELOPMENT AND SALES, THE WINNING DUO
Can we rely confidently on a real estate developer who also incorporates a dedicated sales center ? Isn't this a bit confusing ?
The Constructa Group proves that this integration is not just possible; it is also profitable. Because our expertise as a developer was built upon our historical know-how of marketing. Today instead of weakening it, this new alliance strengthens our service offerings by allowing us to understand, upstream, issues related to real estate development and to imagine, downstream, a multiplicity of solutions.
The ambition of Constructa Vente is to guide clients through the buying process to help them become owners of the apartment or the house of their dreams. With this in mind, we have designed our boutiques as residential experiences — as beautiful to see as they are useful to live in. In our Constructa centers in Paris, Lyon or Marseille, each customer is unique. Our sales consultants provide answers to questions and offer a range of tailored financial solutions. Finally, we bring in an interior designer to allow the client to visualize the completed project. And then to dream, in detail.
– Le White Line, La Seyne-sur-Mer –
THE EYE OF CONSTRUCTA VENTE
Developers have a complete range of offers and a dedicated planning team which allows them to define the best products adapted to their challenges.
Our expertise is based on a long track record of marketing and accompanying development projects with ad hoc analytical tools.
The result: an original methodology combining cross-referencing of statistical data sources related to real estate markets with a field approach – visits and interviews with housing stakeholders – for a qualitative response to demand.
Commercialization of large urban projects