PSA ENTRUSTS CONSTRUCTA URBAN SYSTEMS WITH A PROJECT AIMING AT THINKING OUT THE FUTURE MUTATION OF ITS INDUSTRIAL SITE OF AULNAY-SOUS-BOIS: LA FABRIQUE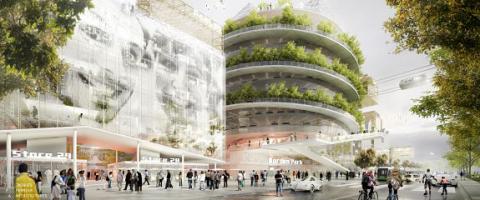 Owned by automaker PSA Peugeot Citroën, the 180-hectare site is located in Aulnay-sous-Bois, North of Paris. Since 1973 it has hosted one of the Group's factories employing 3 000 people. The closing of the factory was announced in July of 2012.
Constructa Urban Systems was selected by PSA for a development management mission, to assist them with the conception of the economic and urban transformation of the site, keeping in mind that the visions expressed should encompass the short, middle and long terms.
For this project, which has been named "La Fabrique", Constructa – along with a team of urban planners, landscape architects, sociologists, and city experts, proposes to conserve the industrial destination of the site by attracting new types of industries, an educative center, and service sector activities. As a hybrid industrial city and new living place, it will also host a number of residential projects and green spaces (parks, wooded areas and gardens) over a 40-hectare area. The creation of a museum could also be part of the new plans.
Team:
Urban planning/landscaping: TER Agency
Architects: Jacques Ferrier Architectures & Sensuel City Studio
Environmental Strategy: Franck Boutté Consultants
Infrastructure & W&S: Viatec
Project coordination and urban strategic consulting: Citylinked
Experts : Jean Viard, François Bellanger, Maud Le Floch' (pOLAU), Cyril Adoue, PALANC