PROJET #CLOUD – REHABILITATION OF 36 000 SQM OF OFFICES NEAR THE PARIS OPERA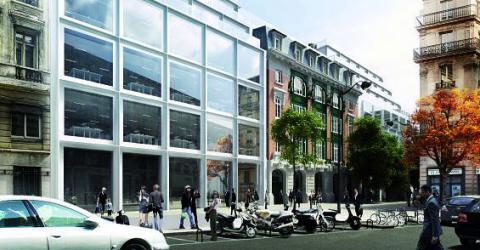 # CLOUD is an ensemble of 3 buildings linked to each other, offering a total of 36 000 sqm of office space. It is located in the heart of Paris, a stone-throw from the Palais Brongniart and the Opera.
The extensive rehabilitation project for which Constructa Urban Systems was retained for a development management mission will create latest generation office space while adding value to the existing real property.
The architect, Philippe Chiambaretta (PCA Architectes), designed a modern project with much use of natural light and a contemporary architecture. The offices will comply with the international standards of "Prime office space" and with the highest environmental criteria. The decorated areas of the #CLOUD project (E-lounge, restaurants, business center and halls) are designed by Noé Duchaufour-Lawrance (NEONATA), Didier Lefort (DL2A) and by Philippe Chiambaretta (PCA). This project is one of the first buildings in France to aim for triple certification HQE / BREEAM / LEED.
Construction started in January of 2013. The rehabilitation will demolish a majority of the facades, all the vertical beams and 50% of the floors in order to increase the "readability" and rationality of the floors.
The owner is Société Foncière Lyonnaise (SFL) and the general contractor is Vinci Construction France GTM.
Completion is scheduled for mid-2015.