LAUNCHING « AMARRAGE », A NEW RESIDENCE IN MARSEILLE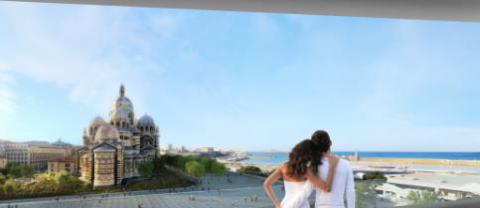 More that 150 people, including partners, elected officials and prospective clients, gathered on November 28 2013 at the MuCEM in Marseille for the sales opening of the AMARRAGE, a new residential project composed of 26 high-end residences located in front of the "La Major" Cathedral.
With this project, Constructa and Pitch Promotion sign their first cooperation, as they are both co-developers and co-marketers of the residence.
Marc Pietri, President of the Constructa Group, Philippe Bega, Regional Director of Development in the Provence area, and Christian Terrassoux, President and CEO of Pitch Promotion explained that AMARRAGE is exceptionally located so as to offer breath taking views of the Cathedral, Notre Dame de la Garde, the Mediterranean sea, the Frioul Islands, and of the beautiful architecture of the recently completed MuCEM museum and Villa Méditerranée. It will offer one to three-bedroom condominiums with large haussmanian volumes, benefiting from direct Southern exposures.
Learn more about Amarrage on our web site