CONSTRUCTION BEGINS AT « LE KONNECT » IN MARSEILLE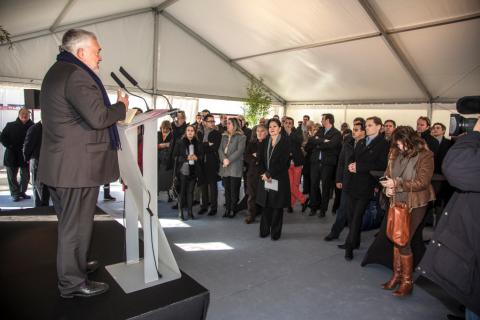 Beginning of construction was celebrated this Thursday November 21 for « Le Konnect », a new residence located a stone throw from the St Charles railway station, in an area known as « la Porte d'Aix » which is undergoing a massive transformation, at the Northern entrance of Marseilles.
Le Konnect is a community conscious project developed by Constructa Promotion under the brand name « Propria », in partnership with Euromediterranée. It proposes 43 residential condominium units and a 91-unit student housing complex. The construction was awarded to Eiffage.
All the parties to the project gathered around elected officials and future residents in the heart of the construction site to share this symbolic moment.
To mark its involvement with the community, Le Konnect awarded grants to four outstanding students from local technical college "Lycée ARTAUD", who are being prepared to enter the highest educational institutions in France.
Le Konnect is a very successful project as only three units remain for sale and completion is scheduled for the end of 2014.
Download the press release of the event